OptionFair is a binary option vendor licensed in Cyprus. It has a nice selection of binary options, including those with a lifespan of just 30 seconds or 1 minute. Some of the binary options sold by this platform pays over 90% when they pay out.
OptionFair is owned by Mika Holdings Inc, who also owns 24Option.
Short info about OptionFair
Founded
2010
Based in
British Virgin Islands
Headquartered in
British Virgin Islands (but also has a big office in Cyprus)
Licensed by
Cyprus Securities Exchange Commission (CySEC)
Languages
English, German, French, Italian, Spanish, Turkish, Arabic, Japanese
Compatibility
Web browser trading (so it doesn't matter if you have a PC or Mac)
Mobile trading
Yes
Streamed news feed
Yes
Minimum deposit
200 USD
Payout
Standard: 85%

VIP: up to 91%
Bonus
Welcome bonus
New members get 5 "risk free" purchases. If you lose money, you get the money back – but in the form of bonus money with a wager requirement.
Other bonus offers
OptionFair change their bonus campaigns often, so the best advice we can give is that you check in with OptionFair to find out what's going on right now. If your planning to make a deposit, it can also be a good idea to contact the OptionFair customer support to make sure you aren't missing any offer on your specific deposit level. The offers are usually tied to the size of the deposit, e.g. a deposit of less than $250 will give you a 30% bonus while a deposit of $15,000 or more will give you a 100% bonus.
OptionFair will often have campaigns where you just don't get a deposit bonus, but also extra pay on winning binary options. A common campaign is the one that gives you a 50% deposit bonus +1% extra pay on winning binary options.
Another nice feature with OptionFair is that they frequently have campaigns where you get a bonus that doesn't consist of bonus money but of something else, e.g. access to analyze tools, access to market signal info or access to special news letters.
If you ponder making a relatively large deposit, it is always a good idea to contact customer support and negotiate a deal with them. VIP bonus is available for large deposits.
Platform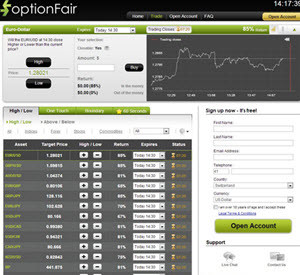 The OptionFair platform is comes with some noteworthy features, including the option of closing any position prematurely. This means that you can close a binary option (and remove your exposure to risk) before the option expires.
The OptionFair platform opens in your web browser and is easy to navigate and use for trading.
Mobile trading
OptionFair has a trading app for iOS and another one for Android. You can get the iOS-app in Apple iPhone App Store and the Android-app in the Google Play Store.
Accounts
There are five different accounts available for binary option traders at OptionFair. Which account your start with depend on the size of your first deposit. Once you have started trading, you can be bumped up to a higher account level if you trade enough.
Standard account

If you first deposit is less than $500, this is the type of account that you get.

Silver account

If your first deposit is $500 – $1,999 you start out with a Silver account. This account type comes with certain perks, including an extra 1% on your binary options payouts.

Gold account

If you first deposit is $2,000 – $14,999 you start out with a Gold account. This account comes with all the perks of the Silver account + special gold account perks. You get 2% extra on your binary options payouts.

Platinum account

To get a Platinum account directly after sign-up, your first deposit to OptionFair must be at $15,000 – $49,999. You get all the perks of the Gold account + special platinum perks. You also get 4% extra on your binary options payouts.

VIP account

This is the account type with the very best perks (including VIP priority support), and you get a 6% extra on your binary options payouts. If your first deposit to OptionFair is $50,000 or more, you get a VIP account right from the start.
Option trading
OptionFair has a nice selection of binary option types, and includes both short-term and long-term binary options.
Here are four binary option types that you can purchase from OptionFair:
Classic binary option

OptionFair have classic binary options based in roughly 70 different underlying instruments (shares, indicies, currency pairs, or commodities). These options usually pay 91%. Both short-term and long-term classic binary options are available at OptionFair.

Super short-term binary options (turbo binary option)

The shortest lifetime of an OptionFair super short-term binary option is 30 seconds. The 60 seconds binary options are also very popular. With super short-term options, you can earn – or lose – a lot of money in a very short time span even if each individual option only yields a small monetary profit. It is possible to start out with a very small investment and quickly use the winnings to progressively build up a bankroll, provided that you win of course.

One Touch binary options

When you purchase a one touch binary option from OptionFair, you risk your money on whether the underlying financial instrument will reach a specific point during its liftime. The financial instrument does not have to still be at this point when the option expires for you to get paid on a one touch binary option. You can purchase one touch binary options with a very big payout at OptionFair; some of the pay over 500%!

Interval binary option

With an interval binary option, you get paid if the underlying instrument stays within a certain interval. This type of option is also known as boundary binary option or range binary option.

A special type of interval binary option is the one where you get paid even if the underlying instrument moves outside the interval during the lifetime of the option, as long as it is within the interval when you binary option expires.
Underlying financial instruments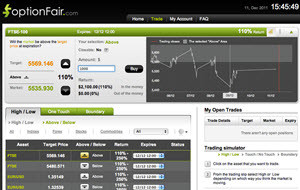 OptionFair have binary options based on shares, indices, currency pairs, and commodities. All in all, you've got roughly 70 different underlying instruments to chose among. Compared to many other vendors of binary options, this isn't very much. It should be noted however that at the time of writing, OptionFair is in the process of adding more to their selection.
Company shares
Amazon.com, Inc
American Express
Apple Inc
AXA
Baidu, Inc.
Banco Bilbao Vizcaya Argentaria
Barclays PLC
BNP Paribas
British Petroleum PLC (BP)
CITIGROUP Inc
Coca-Cola Company
EXXONMOBIL
Facebook, IPO. (FB)
Fiat
France Telecom
Google Inc
IBM
ICICI Bank Limited
JPMorgan Chase & Co.
McDonald's Corporation
Microsoft Corporation
Nike, Inc.
OAO Gazprom
Société Générale S.A
SONY
Sumitomo
Tata Motors Ltd
Telefonica
Vodafone Group Plc
Currency pairs
AUD/JPY
AUD/USD
CAD/JPY
EUR/CAD
EUR/CAD
EUR/GBP
EUR/JPY
EUR/NOK
EUR/TRY
EUR/USD
EUR/ZAR
GBP/JPY
GBP/USD
NZD/USD
USD/CAD
USD/CHF
USD/JPY
USD/NOK
USD/RUB
USD/TRY
USD/ZAR
Commodities
Gold
Gold/Silver
Gold/JPY
Gold/EUR
Silver
Copper
Crude oil
Coffee
Maize
Indices
ASX-200 Future
CAC-40 Future
Dow Jones-30 Future
FTSE-100 Future
Hang Seng Index
IBEX-35 Future
Nasdaq-100 Future
Nikkei-225 Future
S&P CNX Nifty-Future
S&P-500 Future
SMI-Future
TADAWUL
Tel-Aviv 25
Customer support
English language customer support is available through phone, live chat and email.
Email: customercare@optionfair.com
Phone support:
English: +44 203 5147067
Spanish: +34 911 983634
Italian: +39 06 94808282
French: +33 186261721
Arabic: +966 811 1702371
German: +49 322 21095250
Russian: +7 499 6776050
Hungarian: +36 1 4088605
Polish: +48 22 3970143
Lithuanian: +370 52141379
Romanian: +40 316301528
Deposits and withdrawals
Example of transaction methods accepted by OptionFair:
Direct bank transfer
VISA
MasterCard
Maestro
Skrill
Neteller
WebMoney
CashU
Western Union
QIWI
China UnionPay
Abaqoos
iDEAL
Reputation
When it comes to reputation among traders, OptionFair is praised for the stable software, varied product selection and generous bonus offers. Also, they are renowned for processing withdrawal requests really quickly.
Local phone support numbers are available for a lot of European countries, which is a big plus, because even if you speak English you might not want to pay for an expensive phone call abroad.
The major weak spot for OptionFair is the relatively small selection of underlying instruments.