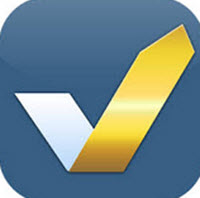 When EZTrader launched back in 2008, it was one of very few sites selling binary options online. They quickly attained a wide customer base, but a few years later their reputation began to vain as they fell behind the competition. Now, EZTrader has been revamped by a new owner and restored to its former glory, with excellent perks for traders and a wide range of top-modern features. Some of their binary options pay 95% when they pay out!
Trading is possible on computers, smart phones and tablets. EZTrader is licensed in Cyprus, and also authorized by NASDAQ for trade within the USA.
Read more about EZTrader.
Short info about EZTrader
Founded
2008
Based in
Cyprus
Headquartered in
Cyprus
Licensed by
Cyprus Securities Exchange Commission (CySEC)

Authorized by NASDAQ for trade in the USA.

Languages
English, German, Dutch, Swedish, French, Spanish, Italian, Portuguese, Russian, Turkish, Chinese
Compatibility
Web browser trading, so it doesn't matter if you are on a Mac or PC
Mobile trading
Yes
Streamed news feed
Yes
Minimum deposit
200 USD
Payout
Normally around 80 percent, but up towards 95 percent for some binary options
Bonus
The bonus campaigns at EZTrader is usually very short-term, so it is important to check with EZTrader to find out exactly which campaigns that are active when you want to make a deposit. Contacting the customer support and negotiate a deposit bonus can also be a good idea, especially if the deposit that you want to make isn't super small.
Platform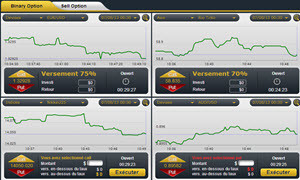 EZTrader has their own bespoke platform that is used by EZTrader only. You wont see this platform at any other trading site. The platform opens directly in your web browser. There is no downloadable client, so it doesn't matter if you are in a PC or Mac.
EZTrader has received some (pretty well-deserved) criticism in the past for having an old-fashioned platform, but during recent years the platform has been updated with a lot of modern and highly useful features that can be used to enhance the trading experience.
A popular feature of the EZTrader platform is the ability to close your position prematurely, if you want to. This option isn't available for every binary option, but for many. If you see a small lightning symbol next to the name of the option in your portfolio, you can close it right now if you want to. (There is a lockout time for binary options at EZTrader, and after the lockout time you can't close the option prematurely. The lockout time is usually one hour prior to maturity.)
Mobile trading
EZTraders are famous for the well-made and easy to use mobile trading apps. One app is available for Android (in Google Play Store) and another one for iOS (in Apple App Store). In addition to being used for trading, these apps also come with various information and news features that are really nice to have access to while on the go.
Accounts
All new clients at EZTrader starts out with the same account type.
Option trading
Compared to many other trading platforms online, EZTrader has a pretty small selection of available binary options. For starters, there are no super short-term binary options available, e.g. options where the lifespan is 30 seconds or 60 seconds. Also, EZTrader doesn't sell one-touch options.
EZTrader is a good choice if you prefer classic binary options with a lifespan of 30 minutes or more. Some of the binary options sold by EZTrader has a lifespan of several weeks.
As mentioned when talking about the platform, many of the binary options sold by EZTrader comes with an early-close feature. This means that you can close the option prematurely if you wish to.
Underlying financial instruments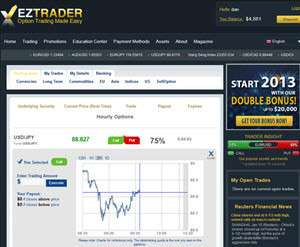 The binary options sold by EZTrader is based on commodities, currency pairs, indices or company stocks. The selection of underlying company stocks is especially big compared to most other binary options sellers and are selected from stock exchanges in both North America, Europe and Asia. This global variety means that there is almost always a stock exchange open that can provide trading info of underlying stocks for the short-term EZTrader binary options.
Generally speaking, the highest payout is to be found among the EZTrader binary options based on currency pairs. A nice novelty here is that you can speculate on the Bitcoin's movements against the USD.
A downside with EZTrader is that the commodity selection is really poor and only contains metals and oil.
Company shares
Abercrombie & Fitch Co
Amazon
ANZ Bank – Australia
Apple
AT&T
Baidu
Banco Santander
Bank of Scotland
Barclays
BBVA
Bezeq
BHP – Australia
BMW
BNP Paribas Bank
BP
Bridgestone Corp
Citigroup
Coca-Cola
Commonwealth Bank
Credit Agricole
Daimler AG
Deutsche Bank
Deutsche Telekom
Disney
eBay
EDF – Électricité de France
ENI
Exxon Mobil
Facebook
FIAT – ITALY
France Télécom
Fujifilm Holdings
Generali
GOLD ETF
Goldman Sachs
Google
Hapoalim
HSBC
ICL
Inditex
Intesa-Sanpaolo
JPMorgan Chase
Las Vegas Sands
Leumi
Microsoft
Netflix
Nike
OIL ETF
PotashCorp
Qualcomm
Ralph Lauren Corp
Reliance – India
Renault
Rio – Australia
Sanofi-aventis
SILVER ETF
Sony – Japan
Tata Motors – India
Tata Steel – India
Telefónica
Tesco PLC
Tev
Teva Pharmaceutical Industries
Twitter
AXA
Unicredito SpA
Vodafone
Currency pairs
AUD-USD
CAD-JPY
EUR-CAD
EUR-CHF
EUR-GBP
EUR-JPY
EUR-USD
GBP-JPY
GBP-USD
NZD-USD
USD-Bitcoin
USD-CAD
USD-CHF
USD-JPY
Commodities
Indices
ASX – Australia
CAC40 Index future
Dax – Germany
Dax Futures
Dow Futures
Dow Jones – US
FTSE – London
FTSEMIB – Italy
Hang Seng – Hong Kong
IBEX – Spain
Kospi – Korea
Nasdaq – US
Nasdaq Futures
Niffty – India
Nikkei – Japan
S&P 500 – US
S&P Futures
Sensex – India
Taiex
Tel Aviv 25 Index
TOPIX 500 – Japan
Customer support
For most customers, only email support and live chat support is available. If you're located within the United States, there is also a call-back service.
Emails are sent through an email form at the EZTraders site.
Deposits and withdrawals
Example of transaction methods accepted by EZTraders:
Bank transfer
VISA
MasterCard
AMEX
Dinners Club
Discovery
iDeal
Neteller
Skrill
Sofort
JPB
WebMoney
Cash U
The smallest possible deposit is 200 USD. For withdrawals, there is no minimum or maximum limit.
Reputation
EZTrader has been in the business since 2008 and managed to accrue a highly varied reputation among traders, a reputation that is a bit difficult to make sense of. A part of the explanation for these widely varying onions about EZTrader can be found in the history of the platform. EZTrader was one of the first platforms for binary options online, and as a trailblazer it dominated the field. However, as time went by, competitors arose. Instead of being proactive and fight hard and smart hold on to their benchmark position, EZTrader got a bit complacent and sort of dropped the ball for a while, giving competitors a chance to gain momentum. When competitors increased payment levels, optimized the spreads and offered their clients all sorts of highly beneficial perks, EZTrader started lagging behind. This is when EZTrader developed a reputation for being less then sterling.
Since then, EZTrader has been sold to new owners, owners that are keenly aware of how a binary options broker online needs to stay on top of its game at all times to attract and retain customers. So, don't let old bad rumors about EZTrader discourage you. Pop over there yourself to see if you like what the new EZTrader has to offer.