AnyOption is a binary option seller licensed in Cyprus. Established back in 2009, AnyOption is one of the trailblazer within the binary option industry online. They are especially famous for their 15% cash back program on losing options. Trading is available on computers, smart phones and tablets.
Short info about AnyOption
Founded
2009
Based in
Cyprus
Headquartered in
Cyprus
Licensed by
Cyprus Securities Exchange Commission (CySEC)
Languages
English, Spanish, French, German, Italian, Russian, Turkish, Arabic
Compatibility
Most web browsers, so it doesn't matter if you're on a PC or a Mac. Mobile apps available for iOS and Android.
Mobile trading
Yes
Streamed news feed
Yes
Minimum deposit
200 USD
Payout
Varies, often around 70%.

15% cashback is common
Bonus
The best way of getting a good deposit bonus from AnyOption is to contact customer support when you ponder making a deposit and negotiate directly with them. This is true for 1st deposits as well as later deposits.
AnyOption has a 15% cash back on losing binary options.
Platform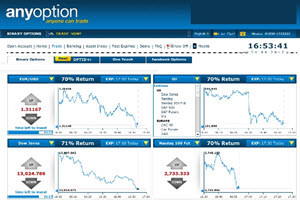 The platform is well-made and easy to use. You trade directly in your browser, so it doesn't matter if you're on a Mac or on a PC.
Mobile trading
AnyOption have mobile apps for iOS and Android. You find the iOS-app in the Apple App Store and the Android-app in the Google Play Store.
Accounts
All new members at AnyOption get the same type of account. If you trade a lot, you can be upgraded and get access to special perks.
Option trading
Examples of binary option types available at AnyOption are the classic binary option, the option plus, and the binary 0-100.
Regrettably, AnyOption doesn't have any binary options that expires within a minute after purchase. The only thing resembling this are the binary options that expire at the end of the hour, end of the day, end or the week, or end of the month. Depending on when you purchase them, they may have a very short time left to maturity.
The AnyOption Option Plus (Option+) is a binary option that you can close prematurely, if you want to. How much you get for the option when you sell it prematurely depends on the situation for the underlying instrument.
The AnyOption Binary 0-100 is a binary option that can yield a 100% profit.
In addition to the standard selection of binary options, AnyOption sometimes sell novelty binary options where your task is to correctly predict the valuation of a specific company that is going public.
Underlying financial instruments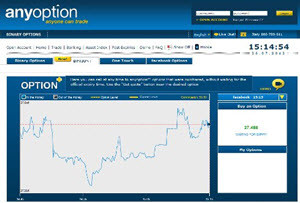 At the time of writing, binary options are available with approximately 140 different underlying instruments at AnyOption. Worthy of mentioning is that AnyOption sell binary options based on the currency pair Bitcoin/USD. This is pretty unusual. The bitcoin/USD binary options at AnyOption are normally options that expire at the end of the month and pay 50% – 70% if they pay out.
Only four commodities are available as underliers for binary options at AnyOption, which is a bit on the lean side in our opinion. It would be nice to have more choices available in the commodity section.
Company shares
AIG
Akbank Turk
Allianz
Amazon
America Movil
ANZ Bank
Apple
Baidu
Banco Santander
Bank of America
Barclays
BBVA
BHP Billiton
British Petroleum
Check Point
Cisco Systems
Citigroup
CPIC Group
Daimler AG
Deutsche Bank
DI Corporation
E.ON
EDF
Exxon Mobil
facebook
France Telecom
Gazprom
Generali
Goldcorp
Goldman Sachs
Google
Hyundai HCN
Industrial Bank
Intel
Intesa Sanpaolo
ISBANK
JPMorgan Chase
Las Vegas Sands
LG Corp
McDonalds
Microsoft
Mitsubishi
Morgan Stanley
Noble Energy
Pfizer
Ping An Insurance
Renault
Rosneft
Samsung elec
Sbrebank
Silver Wheaton
SINA Corporation
Societe Generale
Telecom Italia
Telefonica
Tesco
Teva
Toyota Motor
Turkcell
Twitter
Unicredit
Vodafone
Walt Disney
Wooridul Life
Currency pairs
AUD/USD
Bitcoin/USD
EUR/GBP
EUR/JPY
EUR/USD
GBP/JPY
GBP/USD
NZD/USD
USD/CHF
USD/ILS
USD/JPY
Commodities
Gold
Silver
Cupper
Crude oil
Indices
Bombay 30
CAC 40
Cac Future
DAX
DAX Future
Dow Jones
Dubai
FTSE 100
FTSE IT All-Share
FTSE MIB
Hang Seng
IBEX35 (Spain)
IPC (Mexico)
KLSE Future
KOSPI (Seoul)
MDAX
Nasdaq
Nasdaq 100 Fut
Nikkei 225
PSI 20
S&P 500
S&P Future
SP/ASX200 Sydney
SSE180 (Shanghai)
TECDAX
Tel Aviv 25
TOPIX500 (Tokyo)
Customer support
English speaking customer support is available through phone and email. Regrettably, there is no live chat support. Customer support is only available during weekdays, not on weekends. On weekdays, the support is open around the clock (from 7 am on Monday to 11 pm on Friday).
Instead of calling the customer support directly, you send your phone number to the support and they will call you back. This way, you don't have to pay for the call and you never end up in a queue.
Deposits and withdrawals
Examples of transaction methods accepted by AnyOption:
Bank transfer
VISA
MasterCard
Skrill
Neteller
WebMoney
Ukash
CashU
iDEAL
Santander
Poli
ACH-echeck
DineroMail
La Caiza
Teleingresso
HSBC Bank
Moneta
ESP
Direct24
Giropay
Only one withdrawal a month is free. If you want to make additional withdrawals, there is a fee.
Reputation
AnyOption has a good reputation online. An often quoted downside however is the limited support time (closed on weekends) and the absence of live chat support. Ones you do manage to reach the support, the staff is very helpful and knowledgeable, but increased opening hours would really be a big plus for AnyOptions reputation online.
Another aspect that is often brought up when AnyOption is discussed by traders is the comparatively low payout on AnyOption binary options (70% is common). This low payout is in part an effect of AnyOption's 15% cash back system. You simply have to decide if this trade-off is worth it for you, based on your particular trading habits.