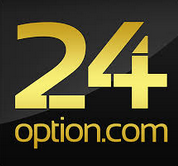 24Option is a binary option seller licensed in Cyprus. Trading is available on computers, smart phones and tablets. 24Option has been around since 2010, and is a well-established binary options vendor with a good reputation.
24Option is owned by Mika Holdings Inc, who also owns the popular OptionFair.
Read more about 24Option.
Short info about 24Option
| | |
| --- | --- |
| Founded | 2010 |
| Based in | British Virgin Islands |
| Headquartered in | London, United Kingdom |
| Licensed by | Cyprus Securities Exchange Commission (CySEC) |
| Languages | English, Swedish, Danish, Lithuanian, German, French, Spanish, Italian, Portuguese, Romanian, Russian, Turkish, Arabic, Chinese, Korean, Japanese, Indonesian |
| Compatibility | Major web browsers (doesn't matter if you run Windows, Mac, Android, iOS, etc) |
| Mobile trading | Yes |
| Streamed news feed | Yes |
| Minimum deposit | 250 USD |
| Payout | 91 percent |
Bonus
As a new member, you get to make certain "risk free" deals. If you lose money, you get that money back, but in the form of bonus money with a 50x trading requirement.
The bonus system for 24Option members is a bit complex. In essence, it is based on your deposits. Deposit bonus campaigns are common, e.g. deposit €500 and get a 50% bonus. Due to the complexity of the system, it is actually a good idea to contact the customer support and negotiate with them when you ponder making a deposit.
24Option frequently arranges contests where the best traders are rewarded.
Platform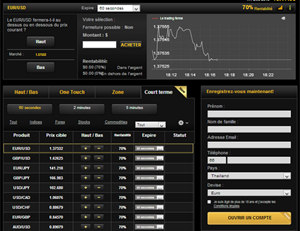 The trading platform used by 24Option is not difficult to navigate and understand. Plenty of educational material and guides are available for anyone who wish to learn more about all the details and special features of the platform, but you can jump in and start trading without knowing all the ins an outs of the platform first.
The platform opens in your web browser. It is compatible with most of the major web browsers. Since there is no client to download and install, it doesn't matter if you have Windows PC or a Mac.
Finding various types of binary options within the platform is easy, and they can be swiftly sorted based on factor such as maturity time and payment.
Mobile trading
24Option have mobile apps available for Android and iOS. The Android app can be fetched from Google Play Store while the iOS app is available in the iPhone App Store.
Accounts
Three different account types are available:
Standard account
This is the basic 24Option account.
Golden account
The Golden account gives you several special benefits, such as unlimited trade with binary options based on all financial instruments supported by 24Option. Witha Golden account, you enjoy 2% extra pay on binary options.
Platinum account
The Platinum accounts gives your all the benefits if the Golden account, and more. A personal trading coach is included, special information services, and VIP customer support. You enjoy 4% extra pay on binary options.
Option trading
24Options has a nice selection of binary option types, based on a wide range of financial instruments. Examples of binary option types that can be purchased here are the classic binary option, the super fast binary option, the one touch binary option, and the interval (in/out) binary option.
On the classic binary options, 24Option pay up to 91 percent.
The super fast binary option is just like a classic binary option, but the maturity time is in the very near future. The shortest super fast binary option on the 24Option platform expiries 30 seconds after purchase. A majority of the super fast binary options at 24Option pays 67%.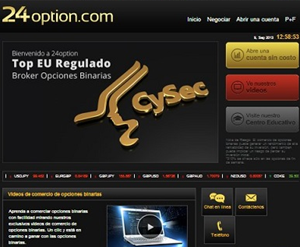 The 24Option one touch binary option is famous for its very high pay. Some of the most high paying ones will yield over 500% profit when they pay. When you purchase a one touch binary option, you risk your money on whether the underlying financial instrument will reach a specific point where a payout is triggered for the binary option. The financial instrument does not have to be at this point when the option actually expires; the financial instrument reaching the specified point at any time between purchase and expiration is enough for you to get paid on a one touch binary option. That is why these options are called one touch.
With an interval binary option, you task is to correctly predict if the underlying instrument will or wont stay within a certain interval for the duration of the option. (There are also interval binary options where you get paid as long as the underlying instrument is within the interval when the option expires.) These options are still quite rare but 24Option is one of the brokers that sell them.
Underlying financial instruments
Below, you will find examples of underlying financial instruments available for binary options at 24Option. The selection available at 24Option includes shares, currency pairs, commodities and indices.
Company shares
Amazon
Amex
ANZ
Apple Inc.
AXA
Baidu
Barclays PLC
BBVA
Beiersdorf
BHP Billiton
BMW
BNP Paribas
British Petroleum PLC
Citi Group
Coca Cola
Deutsche Lufthansa
Disney
E.ON
Exxon
Facebook
Fiat
France-Telecom
Gazprom
Google Inc.
IBM
ICICI
JPMorgan Chase
McDonalds
Microsoft
Nike
PetroChina
Rio Tinto
Rosnef
Royal Dutch
Samsung Electronics
Societe Generale
Sony
Sumitomo
Tata Motors Ltd
Tesco
ThyssenKrupp
Vodafone
Westpac Banking Corporation
Currency pairs
AUD/JPY
AUD/NZD
AUD/USD
EUR/GBP
EUR/JPY
EUR/TRY
GBP/JPY
GBP/USD
NZD/USD
USD/CAD
USD/CHF
USD/JPY
USD/TRY
Commodities
Platinum (XPT)
Gold (XAU)
Silver (XAG)
Copper
Oil
Maize
Coffee
Sugar
XAU/XAG
XAU/JPY
XAU/EUR
Indices
ASX 200 Future
Bombay 30
CAC 40 Future
DAX-30
Dow Jones
FTSE-100
Hang Seng Future
IBEX- 35
KOSPI 200
MIB-40 FUTURE
MICEX
Nasdaq Composite
NIFTY
Nikkei 225
S&P 500
SMI FUTURE
South Africa 40 future
TA-25
Tadawul
Customer support
English language customer service is available by phone, email and live chat. The live chat is usually the fastest way of getting help.
The phone number is +357 25 262063 (this is a call to Cyprus).
The email address is info@24option.com.
Deposits and withdrawals
Example of transaction methods accepted by 24Option:
Bank transfer
VISA
MasterCard
Discover Card
Skrill
Neteller
AstroPay
QIWI
WebMoney
Sofort
GiroPay
Reputation
24Option has a good reputation online. They are usually praised for their easy to use platform, and the large selection of underlying instruments for binary options. An aspect that 24Option has received criticism among its users is that you only have one free withdrawal per month. If you need to make additional withdrawals, it can become quite expensive and eat into your profit margin.